Spice Blends
Our Boutique Spice Blends are designed with that 'Culinary Experience' in mind. While featuring the Aji Lemon Yellow Pepper and the Chocolate Habanero as the peppers that add that unique flavor and heat combination, we do grow other peppers to accentuate flavors.
Our favorite blending peppers are the Anaheim, Cubanelle, Big Jim, Yellow Bell and the trusty Jalapeño. So that we get the most flavor and comparative heat from these peppers, we let them mature to their full vibrant color. In most cases this is allowing them to turn a rich red.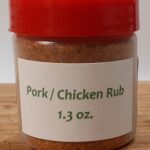 So as to enhance the flavor of our 'Pork and Chicken Rub' we lightly cherry smoke the peppers before they are dehydrated and blended into our 'Smoked Pepper Mix.'
Now for those that like the heat – Our 'Chocolate Habanero HOT Wing Blend Rub' gives a heat wave with that 'Culinary Experience' that we strive for.
Over time we will be adding more Spice Blends to our mix. At Peppers4Fun our staff is working to cross various pepper types that can be the balance of heat and flavor for a variety of those who enjoy spicing up their baking and cooking.