Two More Fridays in July at Mentor Farmers Market
July 22, 2022 @ 2:00 pm

-

6:00 pm
Mentor Farmers Market Every Friday
Two more Fridays in July where we will be at Mentor Garfield Park every Friday in July.
We are harvesting our own variety of The Blaz'n Jellybean for use in our New 'Blaz'n Wings Rub. These 3/4″ to 1″ long peppers come in at about 350,000 Scoville. That is our estimate since we haven't had it formally tested them but, the Peruvian White Habanero, which is the Jellybean original pepper, is rated at 300,000 to 350,000 Scoville.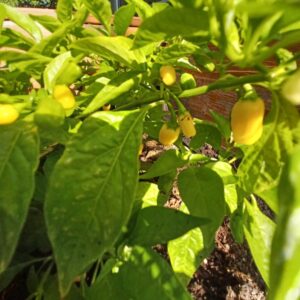 For these next Two more Fridays and beyond: Blaz'n Wings Rub
We introduced the Blaz'n Wings Rub for the 4th of July and it has been fireworks of hit! It is for all those that want the high heat they have been asking us for. This rub is a blend of our Cherry Smoked Chocolate Habaneros, our Cherry Smoked Inferno, a tad of the Blaz'n Jellybean, our Scorpions, and some other spices that give the Savory beginning. This is in keeping with our intent to give you that Culinary Experience.
See you all at this Friday's Market.